NRL Repeat Set: Round 18
Recap the latest round of NRL action with the Repeat Set.

Here's your repeat set for Round 18:
Another Cameron Smith masterclass

Whitehead + Wighton

A round to remember for…Cody Ramsey

A round to forget for…Lachlan Lewis

Play/s of the Round: Roosters

Graham Annesley's Briefing Summary
Cameron Smith - So good
A Cameron Smith masterclass felt inevitable on Sunday afternoon. He looked out of sorts himself last week, but was presented with a flimsy defence he'd have known he can expose in Round 18. He only needed 40 minutes to rip through the Cowboys and send the Storm well on their way to an 11th win in their last 12 games.
I liked the look of Nelson Asofa-Solomona and Tino Fa'asuamaleaui in the starting lineup against this soft Cowboys middle defence. Smith's subtlety around the ruck and the two monster forwards looked a recipe for disaster from Tuesday.
It wasn't long before Asofa-Solomona crashed over. Jordan McLean got off the line quickly to meet Jesse Bromwich, but that left little Reuben Cotter one-on-one with the much bigger Asofa-Solomona. Smith picked him out:
Next it was Fa'asuamaleaui's turn. He took one hit up at the left post before Bromwich hit the right, and Asofa-Solomona back to the left:
With the defence a mess and Tom Gilbert left all alone under the posts, Smith hits Fa'asuamaleaui this time for the future-Titan to fall over the line:
Smith wrapped up his stellar first half by putting Cameron Munster in a gap shortly before the break. With the defence trained on the big bodies surging through the middle, Josh McGuire and Scott Drinkwater turn in as Smith engages the line and hits Munster out the back:
The reverse angle shows the impact of Smith taking a few steps out of dummy half while Tom Eisenhuth, Josh Addo-Carr and Fa'asuamaleaui all surge forward and force the defence into making a decision. They all make the same one - the wrong one: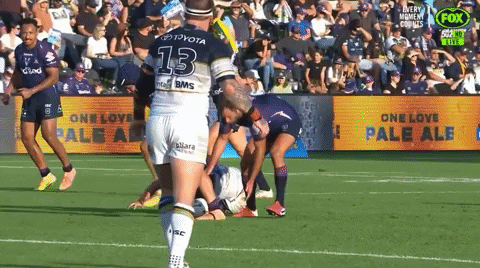 As Smith weighs up whether or not he will play on in 2021, there is little doubt in his ability to continue being productive should he play through to 38-years old.
Whitehead + Wighton
Jack Wighton scored this beauty on Saturday afternoon.
If it looks familiar to Raiders fans, that's because the Panthers sent Viliame Kikau over in a very similar action when the two teams met back in Round 13.
As is so often the case, Elliott Whitehead's role in the try is unlikely to receive much of a mention in the Raiders edition, but his perfectly timed overs line is what drags Corey Norman across the field to open up the hole Wighton steams through.
There is no stat to claim for what Whitehead does there. That's his 2020 in a nutshell. Whitehead's 76 metres and 1.1 tackle breaks on nine runs per game don't rate anywhere near the back rowers typically considered the best in the game. He has only played one season with fewer than the four tries he's scored in 2020 and he's only managed three try assists all season after sending six teammates over the line in 2019.
But despite what the numbers say, Whitehead is almost as important to the Raiders left edge as Wighton. Without the consistency of the Englishman and the trust he can have in his decision making, Wighton isn't nearly as dangerous.
He's not a monster ball-runner like Kikau, or David Fifita.
He doesn't have the skillset of Wade Graham, Tohu Harris, or Raiders teammate John Bateman.
But what Whitehead does do - the little things - he does at an elite level.
Whitehead runs the right line every time. He makes the right decisions on when to shift and hold the ball. His pet wraparound play with Wighton is one that the Raiders use all the way up the field and to great effect. When the right opportunity presents itself for Whitehead to create something himself, he has the skills to execute.
Thankfully, the 31-year-old hasn't missed too many games throughout his five-year NRL career. He hasn't missed one since Round 5 in 2017. Whitehead is one of the most underappreciated players in the competition, and one many won't recognise as irreplaceable in a side until he isn't available.
A round to remember for…
There is only one candidate for this week: Cody Ramsey.
While I don't agree that Mikaele Ravalawa should have lost his spot in the side for Saturday afternoon, Ramsey made sure to make the most of the chance he was given to dot down twice in an otherwise forgettable match for the Red V.
Ramsey went over in the corner on his first touch:
And bagged a first-half double soon after:
Unfortunately for the youngster, it's likely that Ravalawa comes back into the side to finish the season.
A round to forget for…
Oh boy, Lachlan Lewis will have nightmares about his Round 18 performance for a couple of weeks.
He finished with four errors, two ruck infringements and five missed tackles in a dire performance. Simple handling errors left the Bulldogs faithful shaking their heads. Lewis coughed it up twice while the Bulldogs searched for points inside the Manly 20 metre line.
For a halfback known for his defence (not a first trait you look for in a halfback, anyway), it was the fourth time this season he's missed five tackles - one short of his career-high.
A place as the Bulldogs long term half is there for anybody that wants it. A handful of strong performances to end 2020 is all they need to be in the box seat for Round 1 in 2021. Lewis didn't do himself any favours on Friday. Although, Jake Averillo displayed some promising signs to offer the slightest hope for the future.
Play of the Round
The Roosters are easy for everybody outside of Bondi to hate. They've won back-to-back premierships, look likely to win a third, and aren't showing any signs of slowing down any time soon. But you're missing out if you can't sit back and enjoy some of the tries they score. A two minute period on Saturday night highlights just how quick they can pounce on an opportunity and turn a game on its head.
One quick Josh Morris play-the-ball is enough for Luke Keary to spy an already lazy-looking Gehamat Shibasaki as the lone marker with only one Knights defender on the short side. He shapes right before getting by Shibasaki with ease and sends Daniel Tupou down the sideline.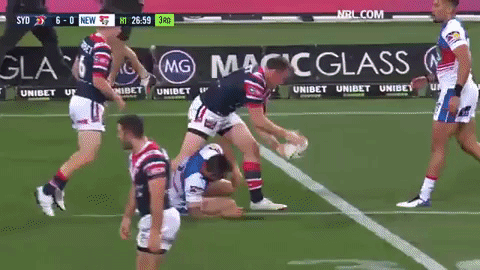 A collision between the 196 cm/105 kg Tupou and 184 cm/91 kg Tex Hoy will end in this way more often than not.
Having seen a weakness down that side of the field, the Roosters went straight back to it in their return set.
A Brett Morris offload starts things off as the Roosters get downhill and direct Angus Crichton towards the weakness just exposed. You can see that Boyd Cordner saw the advantage straight away as he motions to James Tedesco to keep it coming down that side.
Shibasaki and Pearce are both slow and lack any sort of urgency at marker. Cordner simply draws in his man, Morris does the same, and Tupou is back flying down the sideline just as he did two minutes earlier.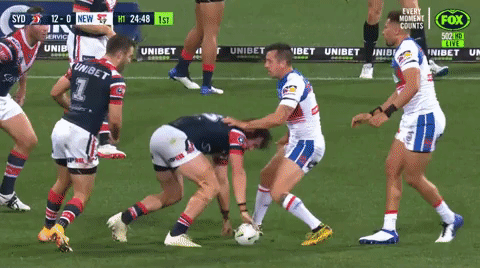 The Knights had started to work their way into the game after conceding an early try, but two minutes is all the Roosters needed to all but put the result beyond doubt.
Graham Anselsey's Briefing Summary
Despite not being ones to spend a lot of time focused on referees and measuring the impact a single poor decision can have on a game, we want to offer a summary of Graham Annesley's weekly reviews that doesn't deliberately mislead or misuse quotes to generate further controversy.
Strangely, Graham Annesley wanted to highlight the Alex Twal sin-bin on Thursday night. It's strange because it's a dictionary definition professional foul that surely nobody could have complained about.

Blake Ferguson lost the ball with James Tamou ruled to have stripped it out. Although, four tacklers made it difficult to determine whether or not the on-field decision is correct: "It's not obvious what happened."

It started a conversation around Penrith retaining their challenge as the Bunker couldn't produce any evidence either way. However, Annesley referenced a "black and white" rule that, like everything, will be reviewed at the end of the season.

Gerard Sutton blew a penalty in the same game for a marker off-side. He should have awarded six-again. Fairly simple stuff. Sutton made a mistake, corrected it, and the Panthers started their set on zero tackle.

The Roosters had a try waved away after Nat Butcher was called for obstruction. Frustratingly, everybody else other than one official in the Bunker could see that it wasn't the right call.

"There's no way this stands up to scrutiny as an obstruction."

"Every day of the week, it should have been a try."

Differing views between the two officials in the Bunker caused the incorrect decision. What can they do when officials disagree? Annesley is currently reviewing the process. Changes may come into effect before the finals, but ideally, fans and media won't be able to tell the difference.

Despite the foolish suggestion by one journalist asking questions at the briefing, they won't be resorting to rock, paper, scissors to settle disagreements. He also struggled with the concept that changing the process of the Bunker won't require a rule change.

The Sharks were whistled for a penalty when Jayden Brailey was out of play when receiving the ball - the correct call.
---
Subscribe to Rugby League Writers: Two articles on a Monday to recap the round, and another two on Thursday to preview the next one.
Socials
Rugby League Writers on Twitter, Facebook & Instagram
Jason Oliver on Twitter & Facebook
Oscar Pannifex on Twitter